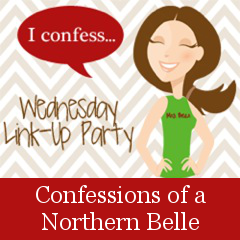 I confess
.. I had a bowl of cereal during my chaos this morning, and then ate another bowl for lunch.
I confess
... I'm scared to death that my body is going to be ruined after having my sweet baby. So far, I've saved my stomach from stretch marks (knock on wood) but I do have a few on my legs and boobs. I know that I'm pregnant and supposed to gain weight, but the numbers I see on the scale are still pretty scary.
I confess
... I have become completely, unhealthily addicted to blogging and stalking other bloggers.
I confess
... When I am at home, I hate wearing clothes. I'd rather run around in a sports bra and panties. Especially now that I am pregnant. I feel like they suffocate my body and I can't stand it. I think I need to go live on a beach. That way I can just wear a bikini all day and of course, soak up the sun (:
I confess
... my blog is a mess right now, but I'm trying to fix it up. I just keep getting distracted or pulled away from the computer. It's coming along though... kind of.
We plan on building a house when we get to Colorado.
These rooms really caught my eye for the new place (:
Oh baby Cayden (: I can't wait to dress you up in cute little out fits like this. I definitely have to make a shadow box of when you were born, and newborn pictures are a must!
Adorable outfits? Yes, please. I need to go new clothes shopping after I have the baby.
I will have this body after the baby, and I will wear this bikini.
Hopefully...
Last but not least, I guess I was stabbed in the heart.